Are you planning for your future?
At Eastbrooke, we are seeking family GPs who share our values and sentiments for quality healthcare. We support doctors who share a collective commitment to patient care and understand the value of their reputation. We are proud of our achievements, our people and our collegiate relationship with doctors.
Current Opportunities
As you contemplate your future and your desire to live a balanced lifestyle, then we invite you to explore options with Eastbrooke Medical Centres. We currently have the following opportunities for you to consider:
Eastbrooke Health Hubs: Full-time contract VR roaming locum GP positions. We offer accommodation, vehicle and travel allowances, with minimum hourly guarantees for the duration of your assignment(s).
Eastbrooke Medical Centres: Limited Full Time and Part Time VR GP positions are available in some Eastbrooke Medical Centres.
Succession Planning: If the timing is right for you, a range of succession options are available for your practice with Eastbrooke Medical centres.
Connect with Eastbrooke
Be First to Know About Opportunities
APART BUT NOT ALONE.
COMING TOGETHER TO FIGHT COVID-19

At Eastbrooke:
We are not interested in being the largest, but rather ensuring we build on our reputation for quality.
We are proud of our achievements and respect the doctors and staff who build this success.
We strive for positive patient experiences and support doctors to deliver the best patient outcomes.
For us, it is about seeking an equilibrium between family, profession, friends and a comfortable financial future. As you achieve professional success, we understand that your priorities can change as you start to pursue other interests or allow yourself to chase important life-long goals.
We believe in quality health care and to meet this objective, we are seeking like-minded doctors, who share our commitment to patient care and who understand the value in mixed billing.
Seeking Doctors with Shared Values
At Eastbrooke, we are carefully planning for our future. With over 12 years of successful experience in managing medical practices, we understand that every doctor is different and we respond to their needs individually. When planning for the future, we seek a balance between professional life, the needs of family and friends and the pursuit of personal interests. To achieve these objectives, we work with like-minded doctors who share our values.
Care
Delivering the best in patient care is the guiding principle of our business. Care for our doctors and support staff naturally follows.
Self-Worth
By looking after ourselves, we are able to offer better care for patients.
Flexibility
Our service agreements are designed to provide doctors flexibility to pursue other interests or allow for opportunities to achieve other life-long goals.
Transparency
Our open and transparent approach forms the foundation of every business partnership.
.
Trust
We earn and keep the trust of our doctors, and continue to value every partnership.
Balance
We understand that you have other passions and commitments in life. We can work with you on full-time or part-time working arrangements to suit you and your family.
Why does Mixed Billing work for Eastbrooke Doctors?
Opportunity to increase income
Allows for more time with patients
Better clinical outcomes for patients
Our profession is given the respect it deserves
Eastbrooke Mixed Billing Clinics
NSW
BELROSE
BLACKTOWN
BOWRAL
CARLTON
RANDWICK
WINSTON HILLS
VIC
BELMONT
DONCASTER
ESSENDON NORTH
NIDDRIE
NOBLE PARK
QLD
BURLEIGH WATERS
MACKAY
SOUTHPORT
TOWNSVILLE
For a confidential discussion, please contact Ms Areena Rata, Recruitment Manager, Eastbrooke Medical Centres on 0431 541 977 or email ar@eastbrooke.com.au
Alternatively, we invite you to contact Eastbrooke Directors:
Simon de Picot 
Director
0422 932 298
Andrew de Picot
Director
0414 929 687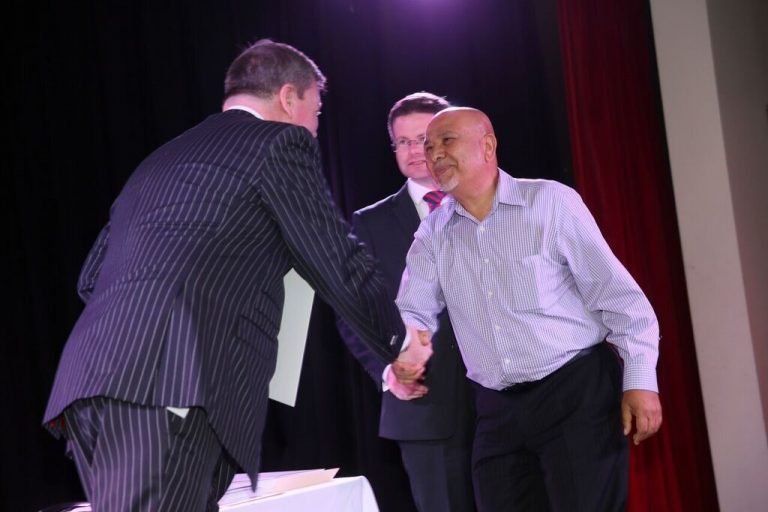 Dr Gunu Naker being honoured with a prestigious Medal of the Order (OAM) at the Australia Day Awards 2020.
Eastbrooke in Our Community
We always like to work with GPs who share our values and demonstrate a commitment to quality patient care. Through a number of charitable community outreach activities, we support doctors who share a sense of generosity and a collective commitment to health and wellbeing, for people from all walks of life. For example, Dr Gunu Naker from our Carlton clinic has a long history in volunteering for Sai Medicare Camps in rural Fiji. We are proud of our people, our achievements and our relationships with philanthropic doctors like Dr Naker.
This year Dr Gunu Naker from Eastbrooke Medical Centre Carlton was honoured with a prestigious Medal of the Order (OAM) for his service to the international community and medicine at the Australia Day Awards 2020.